Belize Bicycle E Rider  $1800.00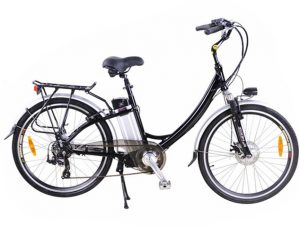 E-RIDER ELECTRIC BICYCLE
The E-RIDER is a 26″ wheel lightweight alloy framed bicycle with front suspension and electric rear wheel hub motor. Equipped with a 350 watt motor the bike can reach a top speed of 25-30kph.
The lightweight 14Ah Lithium-ion power-pack will allow for up to 40 kilometers on a charge depending upon speed and conditions. Pedaling can be done while using the throttle to help extend the range. The speed of the bike can be controlled with the twist throttle and/or by pedaling and changing the gears of the Shimano six speed transmission. There are also 5 levels of powered pedal assist where the motor will automatically activate to help you when you pedal.
The E-Rider comes fully equipped with a headlight, taillight, bell, disk brakes, ignition switch, battery charge indicator, adjustable handlebar stem, luggage rack, fenders and a smart battery charger.
FEATURES:
+ 5 power level pedal assist can more than double the range using Level 1
+ Higher levels help you in hill climbing
+ You can also control the speed with the twist throttle
+ 7 speed Shimano transmission so the correct gear is always available
+ An LED headlight/tail-light
+ Ignition switch
+ LCD programmable monitor
+ Adjustable handlebar stem
+ Luggage rack
+ Fenders
+ Rear mount kickstand
+ Battery charger
+ Maximum weight capacity is 275 lbs.