Bryton Rider 10  $90.00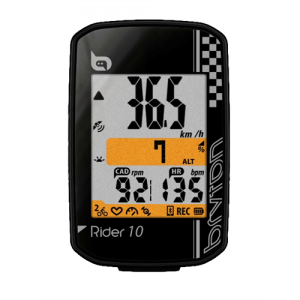 Exquisite GPS Cycling Computer
High-sensitivity GPS receiver for fast positioning
No speed sensor installation needed. Just power on and go.
IPX7 waterproof
Large and easy-to-read display
5 customizable data screen with maximum of 4 data per page
Built-in barometer for training with terrain
One second recording and Auto Pause
Compatible with BLE Heart Rate, Speed, Cadence sensors for advance training
Auto backlight for night rides
Low sensors battery notification
Support phone calls, emails, texts notifications
Support Bryton Mobile App for customizable data grid, altitude calibration, analyzing and sharing tracks
Strava, TrainingPeaks Auto Sync your activities seamlessly from Bryton Mobile App
Bryton Rider 310  $190.00
Bryton Rider 310 with cadence  $210.00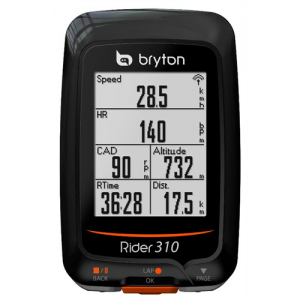 Innovative GPS Cycling Computer
High-sensitivity GPS receiver for fast positioning.
No speed sensor installation needed. Just power on and go.
IPX7 waterproof
Large and easy-to-read display
7 customizable data screen with maximum of 8 data per page
Built-in barometer for training with terrain
Bryton test preloaded to test your limits and train systematically.
Compatible with ANT+ Heart Rate monitor, speed, cadence sensors and power meter for advance training.
nti-glare display for daytime and clear backlight for night rides.
Support for viewing stats on devices or uploading to Strava, Training Peaks, and Fit track.
One second recording
Comes in 4 versions from basic to cadence and heart rate.
Bryton Rider 330T  $250.00 includes sensors for heart rate, cadence, speed
High-sensitivity GPS receiver for fast positioning
No speed sensor installation needed. Just power on and go.
IPX7 waterproof Large and easy-to-read display
7 customizable data screen with maximum of 8 data per page
Follow track plus turn by turn navigation
Built-in compass provides heading information
Built-in barometer for training with terrain
Bryton test preloaded to test your limits and train systematically
One second recording
Compatible with ANT+
Heart Rate monitor, speed, cadence sensors and power meter for advance training
Anti-glare display for daytime and clear backlight for night rides
Support for viewing stats on devices or uploading to Strava, Training Peaks, and Fit track
Support Bryton app for planning trip, analyzing and sharing tracks
Strava Auto Upload to sync your activities seamlessly from Bryton app
Bryton Rider 530  $330.00
High-sensitivity GPS receiver for fast positioning
No speed sensor installation needed. Just power on and go.
IPX7 waterproof Large and easy-to-read display
7 customizable data screen with maximum of 12 data per page
On Device Graphical Summary
Follow track plus turn by turn navigation
Built-in compass provides heading information
Built-in barometer for training with terrain
Bryton test preloaded to test your limits and train systematically
One second recording
Compatible with ANT+
Heart Rate monitor, speed, cadence sensors and power meter for advance training
Anti-glare display for daytime and clear backlight for night rides
Support for viewing stats on devices or uploading to Strava, Training Peaks, and Fit track
Support Bryton app for planning trip, analyzing and sharing tracks
Strava Auto Upload to sync your activities seamlessly from Bryton app