Looking for a trainer / stationary bike to ride while it is wet out?
Tacx Neo Smart  $1599.00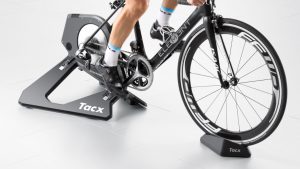 Real direct drive trainer with a powerful motor placed directly onto the cassette, eliminating additional gearing
Measure speed, power and cadence
Low revolutions, reduces noise to a minimum
Foldable and compact frame design
Can be used completely wireless or hooked to a power outlet
Bluetooth and ANT+ FE-C capable
Maximum resistance 2200 Watts
Realistic climbing up to 25% and downhill to -5%
Comes with Shimano/SRAM compatible freehub body (Except SRAM XD). Campagnolo freehub body sold separately
Front wheel support included
More from Tacx on video
Tacx Flux Smart  $999.00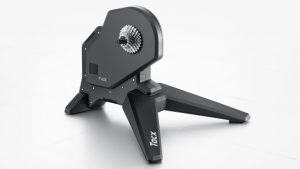 Maximum resistance of 1500 watt
Incline simulation up to 16%
Power measurement accuracy of 2.5%
15 lbs flywheel improving realism
Measure speed, cadence and power
Compatible with long cage derailleurs
Axle compatibility: 130mm, 135mm
Compatible with Bluetooth and ANT + FE-C
Comes with Shimano freehub body. Campagnolo freehub body sold separately
More from Tacx on video
Tacx Bushido Smart Trainer  $999.00
As the Bushido is wireless and can be linked to your smartphone or tablet, you can use this trainer for workouts wherever you are. Are you going on a training camp or is there no power point handy at your training location? In that case, choose the Tacx Bushido.
Completely wireless: produce your own energy and use your trainer anywhere
Bluetooth and ANT+ FE-C communication capable
Measure speed, cadence and power
Including Skyliner front wheel support
Motor brake with integrated software-simulated flywheel and 4.5lbs regular flywheel
Maximum resistance 1400 Watt
Simulate slopes up to 15%
More from Tacx on video
Tacx Bluematic Smart  $299.00