Trail to Coombs from Rathtrevor Park
Ride your bike to Goats on the Roof in Coombs from Rathtrevor Park & Campground. Starting from the beach near the main parking lot heading out the access road to the RDN trail to Top Bridge Park over the suspension bridge back down to the waterline trail along the railway tracks and out to Coombs.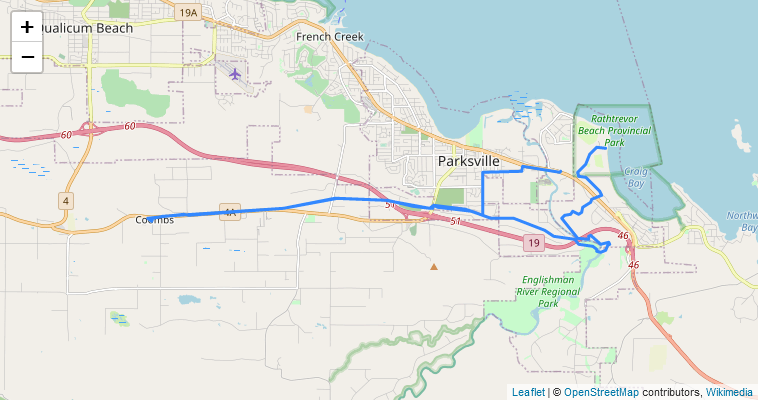 Starting from the main parking lot in Rathtrevor Park head up the paved access road. Halfway up the hill there is a bench on the left hand side with a trail behind it. Head up that trail to Resort Drive and turn left following Resort Drive to the Tigh na Mara intersection and turn right to the light at the highway. Cross the highway and go straight to Industrial Way. To the right is the RDN trail head for the Top Bridge Park  . Follow the RDN trail through the old gravel pit staying on the main trail to Top Bridge.
Cross over the suspension bridge and head up the road to where it widens a bit. On the right hand side there is a trail that parallels the river, follow it under the highway and trestle. After the trestle turn left onto the waterline trail which will parallel the train tracks.
Use caution at all crossings and respect other trail users. The safest place to cross the Alberni Highway (right after the train station) is by turning right down the highway to Despard and crossing at the pedestrian signal. You can then keep going on Despard past the school and dog park and you will see a gravel path on the left. This path will take you up to the rail trail again.